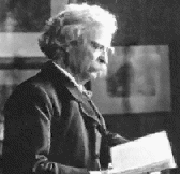 Mark Twain & Other Related Information
Here are some of our favorite Twain sites with information from
quotes, to his life, to whole volumes of his best writings. ENJOY!
The Mark Twain House in Hartford, Connecticut -

This site is a delightful place to visit with a wealth of interesting and helpful information about the great author himself. Site contains general information about Mark Twain's entire life but focuses of course on the time he spent in Hartford.
---

Send question or comments to:webmaster
Return to the Historic and Literary Resources page